Technical Daily Exercises for piccolo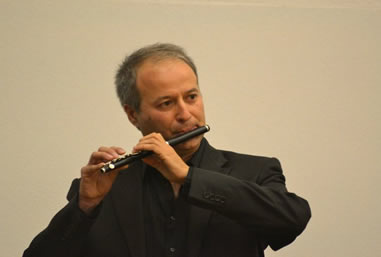 Each academic year, I prepare six lessons of technical study material for the piccolo. The material matches each session of my master classes and private lessons.  I believe that my explanations and the scrutiny my students undergo during their lessons make the material quite useful. However, they can also be helpful to those who cannot attend the classes.
The exercises are organized in the form of a complete method. The areas of study are:
- Expansion of support
- Timbre and power in the low notes
- Embouchure flexibility and octaves
- Playing high notes softly
- Scales and arpeggios with rhythmic, articulation and dynamic variations
- Development of sound through melodies 
The exercises are often variations on material from the books listed below. Application of my materials to them is suitable and recommended. 
Please feel free to contact me with questions via email. I will be happy to clarify any issues for you.
Abbreviations:
Moyse:  Sonorité = Marcel Moyse, De the sonorité: Art et Technique, A. Leduc
Moyse: Gammes = Marcel Moyse, Gammes et Arpeges, A. Leduc
Moyse: Tone developmement = Marcel Moyse, Tone Development Through Interpretation for flute, McGinnis & Marx
Bernold: Embouchure = Philippe Bernold, La technique d'embouchure, La stravaganza
Suggestions for Study 
1) Follow the proposed order. It follows a logical principle of gradual acquisition of the correct technique.
2) If you feel that your tone is not as good as it should be, make sure that your:
   - instrument is in perfect condition;
   - support is good;
   - throat is relaxed;
   - your embouchure is correct.
This check must be performed in this order. It is useless to try blowing in different directions if your support is not sufficiently strong or your throat is not open.
3) Play scales not only for finger technique, but as tone exercises too. Integrate sound and agility.
4) Protect your hearing, especially in a small room or one with reverberation. Some cotton may suffice but when working on the high register in forte, use special earplugs or headset for protection.
5) Although some exercises are long and repetitive, always study with concentration. To paraphrase Trevor Wye, no progress results from mechanical repetition, only from focused work.
6) If you are not dedicated to the piccolo only (which is understandable), alternate flute and piccolo study. This will enable you to switch easily from one to the other.
7) Enjoy your practicing and be optimistic about achieving results. Above all, play the music, not the notes: never forget this is our goal!
How To Obtain the Materials 
The materials are delivered via email or in hard copy.
Mailing costs are paid by the recipient.
Each level purchased separately costs 10.00 Euros. If all six stages are purchased, the cost is 50.00 Euros. Participants in my courses and master classes receive the materials at no charge.
The materials are copyrighted.  Please do not photocopy - this is how I earn my livelihood.
A link to upload a sample page can be found here.
Attention: every material has a bonus of 15 minutes of teaching support by videochat!
Payment must be made in advance. Means of payment are:
- I banking
- PayPal, a practical and convenient system requiring a credit card.  
For each stage:
For a subscription to all six levels:
For questions or my postal and banking address, please contact me via email at: nicola@piccoloflute.it